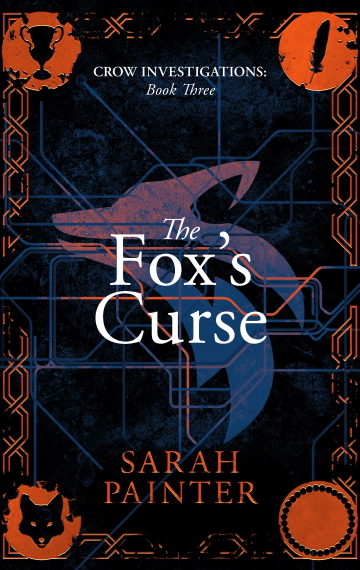 Available in:

Ebook, Paperback, Audiobook
The Fox's Curse is the third book in my urban fantasy mystery series, Crow Investigations.
It's out NOW from all good book shops (you can also request it at your local library):
A cursed Fox. A vengeful Silver. A whole lot of trouble…
Lydia Crow has long suspected there is more beneath London than just trains, but has never been keen to poke around in the dark. But when Paul Fox, powerful member of the Fox Family, blackmails her into taking a case, she has no choice.
Investigating a suspicious death in a disused tunnel of the London Underground for her ex-boyfriend causes friction between her and DCI Fleet – and not the fun kind.
Uncle Charlie is still pressuring her to work for the Family business, her ghostly flatmate is looking for answers about his own demise, and Maria Silver is out for blood. Preferably Lydia's.
With old alliances broken, it's harder for Lydia to know who to trust. There is a big choice up ahead and it's getting closer by the second. Lydia has to find a path in the darkness – and fast.
What reviewers are saying on Amazon…
'The next instalment in the Crow series of books doesn't disappoint. Sarah Painter is cleverly building the story and the magic gets stronger with each one, for both the protagonist and the reader.
However this is not a magical fairy tale where the Princess gets her man, this is gritty magical realism (if there ever was a thing) and leaves you gagging to explore the off shoots of each character.'
'The third book in what I am hoping will become a long series! Recommended for fans of the Ben Aaronovitch or Paul Cornell series – Sarah really seems to be getting into her stride with these books and each one has been better than the last. She is creating a rich world of urban magic.'
'Feeling that bereft feeling when a book you've been totally absorbed in comes to an end… nooooooo!! Can't wait for the next one.'
Book 1: The Night Raven
Book 2: The Silver Mark
Book 4: The Pearl King
Book 5: Coming Soon!